The Difference Between Limited Company and Unlimited Company - How to Decide Which One to Start?
A Video and Table Guide for Analysis!
Entrepreneurs starting out often have a major question: Is it better to establish a limited company or an unlimited company? In reality, the primary distinctions between a limited company and an unlimited company lie in the scope of liability, establishment procedures, and maintenance processes. These differences are the factors that entrepreneurs need to consider when deciding which type of company to open.
A Limited company refers to a company with Limited liability, which means that, in general, the company's debts are primarily borne by the company itself, and the personal assets of shareholders are protected in most cases unless shareholders have signed specific guarantees. Limited companies are legally regarded as "separate legal entities" and can engage in activities such as contract signing, litigation, borrowing, and more.
However, establishing a Limited company requires compliance with company laws, including establishment procedures and maintenance processes, which are comparatively more complex and entail higher costs compared to unlimited companies.
The annual maintenance procedures for a limited company in Hong Kong include timely payment of Business Registration fees, submission of Annual Returns, preparation of financial statements audited by a practicing Certified Public Accountant, and submission of Profit Tax Returns. (To learn about the tax filing deadlines for limited companies, you can

click here

.) According to the Companies Ordinance, a limited company is required to appoint a company secretary to ensure compliance with relevant regulations.
In comparison to a Limited company, the establishment and maintenance procedures for an unlimited company are relatively simpler. It only requires filling out a business registration form, submitting copies of the applicant/partner's identification, and paying the necessary fees to obtain a business registration certificate. Regarding the company's operations, there is no requirement for financial statement audits for unlimited companies. They only need to maintain accounting records and relevant documents and file tax returns on time.
However, an unlimited company implies unlimited liability. If the company is unable to repay its debts, the applicant/partner is personally liable without any limitations, and their personal assets may be affected. Therefore, for certain high-risk industries or businesses involving significant investments, a limited company might be more suitable. Additionally, professional investors typically prefer investing in limited companies.
To facilitate a quick understanding of the differences between limited companies and unlimited companies, we have created this video:
You can also refer to the comparison table below for further analysis.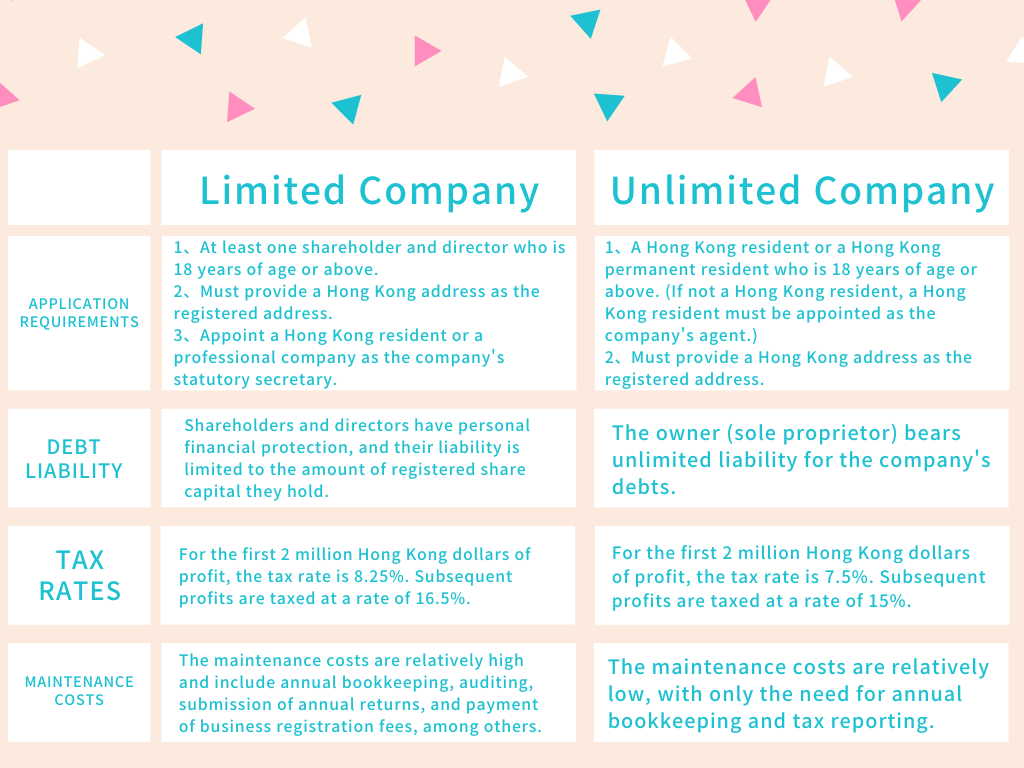 In conclusion, the choice between setting up a Limited company or an unlimited company depends on your business scale, level of risk, and future development plans. If you wish to have more financial security and reduce personal liability, a limited company may be a more suitable choice. On the other hand, an unlimited company is relatively simpler and quicker, suitable for certain small-scale or low-risk businesses. Regardless of whether it is a limited or unlimited company, a well-structured organization and rigorous financial management are crucial for the long-term development of the business. If you have any questions about setting up a company or need independent advice, feel free to contact us. We are more than happy to assist you.
The above content is for reference only. If you have any questions about auditing,tax filing or would like to ask any other accounting questions, please feel free to contact us by clicking the button below: